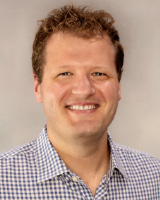 Abdominal Imaging Fellowship
Dr. Kauffman received his Doctor of Osteopathic Medicine Degree from Kansas City University in 2015. His radiology residency was completed at the University of Missouri - Kansas City in 2020. He also completed an Abdominal Imaging Fellowship at Duke University in 2021. Dr. Kauffman is board eligible by the American Board of Radiology.
Dr. Kauffman is a Kansas City native who loves vacationing at the Lake of the Ozarks. He has mad bar-be-que skills, but his talents don't stop there! He has an amazing voice, and he once won a karaoke contest against a finalist from The Voice. If you hear "Jump Around" by House of Pain while you are at Element, it may be our own Dr. Kauffman singing his winning song – but please don't dance during your exam!