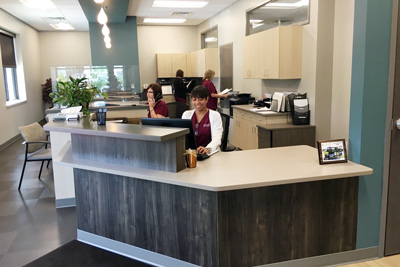 At Element Medical Imaging, we recognize that you, our referring providers, are of vital importance to our success. Our goal is to provide you with the very best service from start to finish. We focus on solutions that optimize health care quality and affordability. What really sets us apart is the expertise to provide quality, patient-driven care.
We make it easy for your office by seeing your patients quickly and obtaining insurance prior authorization (for those payors that allow). You will benefit from our leading-edge equipment, board-certified radiologists and compassionate staff members who offer convenient and prompt scheduling, along with online access to reports and images. With our streamlined processes, we inform and empower you with fast, accurate reports that help you and your patient quickly and confidently get on with treatment.
Please feel free to contact us if there is any way we can service you better. 913.469.8998
Why Element Medical Imaging?
You will receive fast and ACCURATE reports interpreted by our expert, sub-specialty trained radiologists.
We handle your PRIOR AUTHORIZATION needs!
We are in-network with most major medical insurance.
We offer walk-in and same day appointments on most exams.
We offer a web-based portal to quickly and conveniently view your patient's images and reports.
All Element locations are free-standing facilities without stairs or elevators.
Our office hours are 7:30am – 5:00pm, with MRI appointments available evenings and weekends!